Derivatives Clearing 2015
An official publication of FIA Europe
Derivatives Clearing 2015 considers the three prongs of regulation impacting the derivatives industry – EMIR, MiFID II and Basel III – and examines their impact on different segments of the market and the consequences for market participants.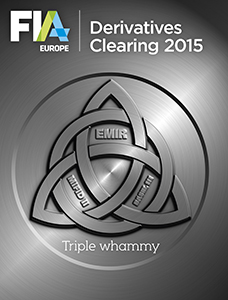 The publication is edited by John Parry, founding editor of FOW and former editor of Metal Bulletin. Editorial is written by expert practitioners and financial journalists who regularly and intelligently cover these markets.
If you would like to receive a copy, please email: sara.aru@witanmedia.com

About FIA Europe
FIA Europe's mission is to be the thought leader, advocate and educator connecting the centrally cleared derivatives industry. It seeks to sustain industry growth and enhance the integrity of markets and firms through the cycle of regulatory change. It works with members to maintain constructive dialogue with government and regulatory authorities and deliver high standards of industry practice.