Climate 2020: degrees of devastation
About the United Nations Association – UK
In October 2018, in the run-up to COP 24, we published the fourth edition of UNA-UK's Climate 2020, part of its definitive series of publications on Agenda 2030.
Climate 2020 assesses the global impacts of climate change and current efforts to mitigate and adapt. More importantly, it identifies who needs to do what to meet the Paris Climate Agreement and avert catastrophic change.
Written by the world's leading authorities, Climate 2020 is aimed at policy-makers, practitioners and interested observers.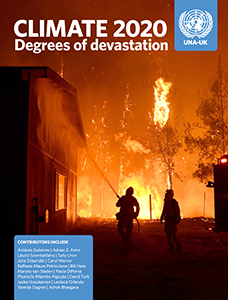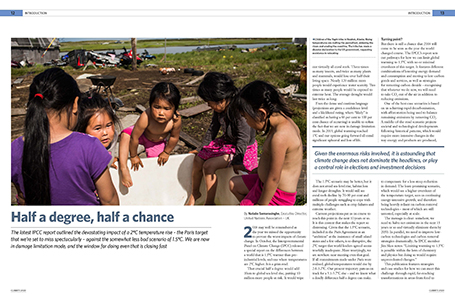 The publication is edited by Natalie Samarasinghe, with articles from leading authorities, including António Guterres, Phumzile Mlambo-Ngcuka, Adnan Z. Amin, Sally Uren, Bill Hare, David Turk, Carol Werner, Yamide Dagnet and Maryke van Staden.
Visit the website at: www.climate2020.org.uk

About the United Nations Association – UK
The United Nations Association – UK (UNA-UK) is the UK's leading source of independent analysis on the UN, and a UK-wide grassroots movement.
UNA-UK believes that a strong, credible and effective UN is essential if we are to build a safer, fairer and more sustainable world. It advocates strong government support for the UN and demonstrates why the UN matters to people everywhere.